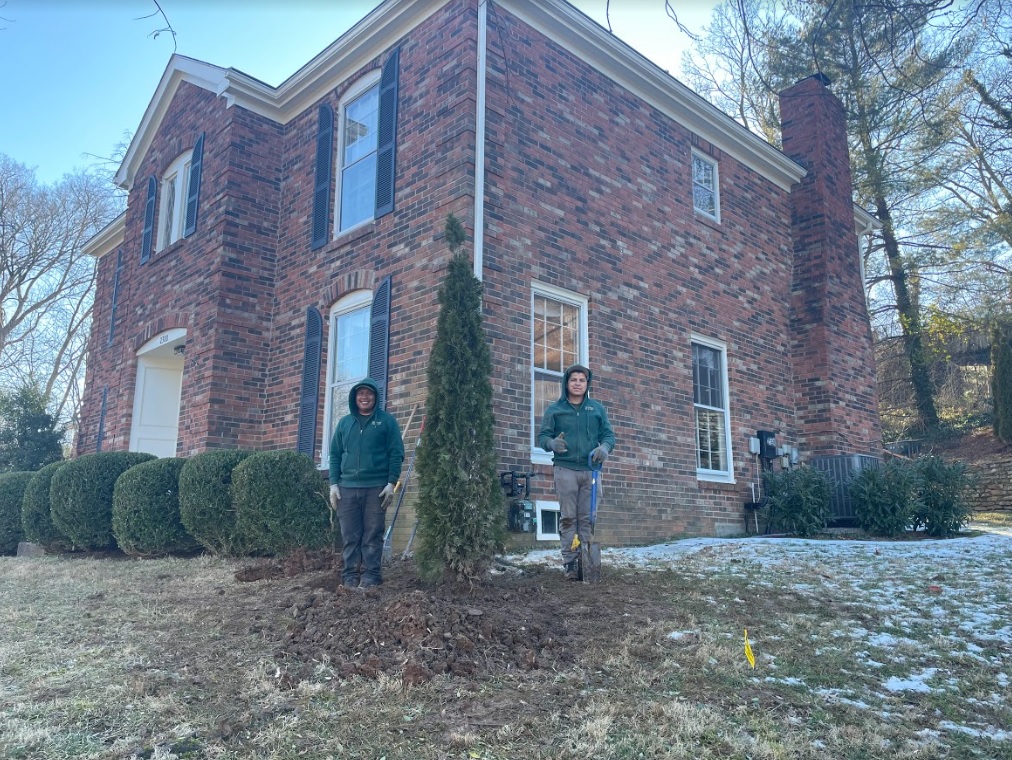 Tree Planting Service
Trees emit oxygen, which we require to breathe. It increases wildlife habitat connectivity and biodiversity. It can even raise residential property prices by 7% and building lots by 18%. But planting the right tree in the right place is not as easy as it seems. You need a professional tree service team such as Roe's Outdoor Services, Inc. to guide and help you find the perfect tree to plant on your property and maintain the health of your trees for them to grow beautifully.
Tree Planting Projects in Douglass Hills, Kentucky
Tree planting is not a simple task that is easy to do. It needs serious planning by a professional team to help you know what kind of tree is best to plant on your property, where's the best place to plant it, and how to properly take care of it. Check out these videos and pictures of our tree planting and tree health care management projects that we did in Douglass Hills, Kentucky.
Benefits of Tree Planting
Cooler and Cleaner Air.

Planting trees helps to keep a place cool by lowering the temperature. Trees absorb odors as well as other harmful gases such as ammonia, nitrogen oxides, sulfur dioxide, and ozone, making the air cleaner and fresher. They also filter airborne dust and particulates by trapping them in their leaves and bark.

Save Energy and Money.

An acre full of mature trees can provide oxygen for 18 people for one year. Planting trees strategically around buildings and homes reduces heating and cooling energy consumption by 3%. This can help you save money on air conditioning while also lowering carbon dioxide emissions.

Increase Property Value.

Quality landscaping and healthy trees can boost retail spending by 9–12% and increase property value. 

Saves Mother Earth.

Tree planting can reduce greenhouse gas, reduce soil erosion, protect the ozone layer, prevent water pollution, protect the ecosystem, and combat climate change.

Improve Quality of Life.

Planting trees will bring life to your area and can improve your quality of life. Trees help decrease our stress, rumination, and anxiety. One study found that people living in proximity to trees had better "amygdala integrity, which means a brain structure better able to handle stressors. Another study suggests that trees may improve immunity thanks to certain aromatic compounds they release.
PROFESSIONAL TREE PLANTING. CALL NOW
Need Tree Planting In Douglass Hills?
Planting the right tree in the right place in the right way is not a simple task to do. You need a professional tree care service team such as Roe's Outdoor Services, Inc. to help you grow a strong, beautiful, and healthy tree. With our complete equipment and utilities, we will plant your trees efficiently and safely! If you live in Douglass Hills, don't hesitate to call us now! Book a date today and we will provide a FREE tree planting service and tree health care management estimate.
The Tree Planting Porcess In Douglass Hills
With over 73,300 tree species in the world, choosing the best tree for your home can be extremely difficult. Roe's Outdoor Services, Inc. is here to help and guide you through the entire tree planting process, from tree selection to tree health care management. Our expert team will ensure that your newly planted tree thrives and survives the ever-changing weather and climate conditions in Douglass Hills, Kentucky, improving the appearance of your property and increasing its market value. Maintaining the soil's health, analyzing your tree's structural integrity, moving and replanting the tree, diagnosing the tree's symptoms, and preventing and treating tree diseases and pests are all part of our tree planting service.
Roe's Outdoor Services Inc. Is Just A Call Away!
Do you want to plant a new tree on your property? Save your time and effort and ensure the best tree is planted on your property by consulting with the tree service expert team at Roe's Outdoor Services, Inc. Simply give us a call, and we will assist you in finding the perfect tree for your property that will thrive, grow healthily, and beautifully!
If you are looking for tree planting services in Douglass Hills, Kentucky, get in touch with us today! Roe's Outdoor Services, Inc. team is committed to giving our clients peace of mind and satisfaction by providing them with efficient and effective tree health care management service solutions.